INTERESTED IN ADVERTISING IN DLM ?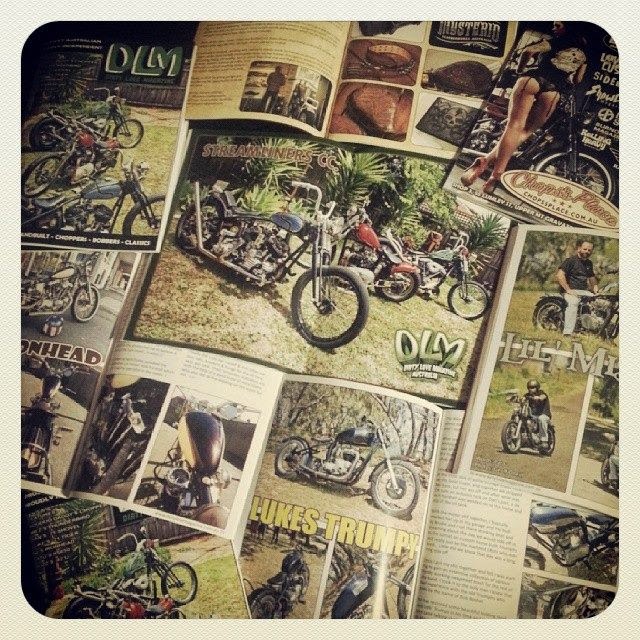 If you're a small business related to the kulture of DLM, then we'd love to have you on-board as an advertiser and great supporter of this Independent Aussie Motorcycle Magazine for Vintage & Hand built Choppers, Classics & Kustoms..!
DLM is produced in 'printed media' and also 'on-line media' (free to view).
The benefits of publishing in both mediums is that we capture those who love to still have a publication in their hands and also offer it for those who prefer to read it on-line. This ensures a much broader national and international reach for the magazine and with the ability to have active URL links to your business websites and catalogue's within the digital media, this will increase traffic to your on-line presence and hopefully thru your door.
Printed Press: A5 Booklet (210mm h x 148mm w), 64pp + Cover, Saddle stitched. The cover is printed on 170GSM satin art, Text is on 100GSM satin art.
Digital Press: is produced for viewing on desktops, laptops, tablets or mobile devices. You can also install the 3D Issue App for iOS and Android smartPhone and tablet devices so that you can download any/all issues to read at a time that suits.
Advertising Space: 12-14 Pages of 'Collective Space' is put aside for advertising.
Advertising costs go towards helping pay overhead costs of producing the magazine (Production Software, On-line Publishing Software, Hosting, Domain Registrations, Print Press Costs, Etc).
DLM's primary focus is to promote and support the community, not make money from it and I'd like to keep it this way, hence why I think you'll find our advertising costs ridiculously low !
Advertising Sizing:
FULL PAGE (210mm h x 148mm)
HALF PAGE (105mm h x 148mm)
QUARTER PAGE (105mm h x 74mm)
QUARTER PAGE (52.5mm h x 148mm)
Please contact us for Pricing;  info@dlmaus.com.au
Artwork: Is required as: 300 DPI print resolution in CMYK colour space. Trim Marks are to be included on artwork. PDF, PSD or EPS files preferred. Magazine Bleed; 3mm, ie: full page with bleed, 216mm h x 154mm w, printable area being, 210mm h x 148mm w.
All advertisers will receive a free printed copy of each issue and also have first option to also distribute (cost at wholesale prices).
Contact Us: Please feel free to contact us via email for pricing and if you have any further questions, require us to further explain anything or if we're able to point you in the right direction towards great peoples who can assist you with artwork for your advertising..?
Email: info@dlmaus.com.au