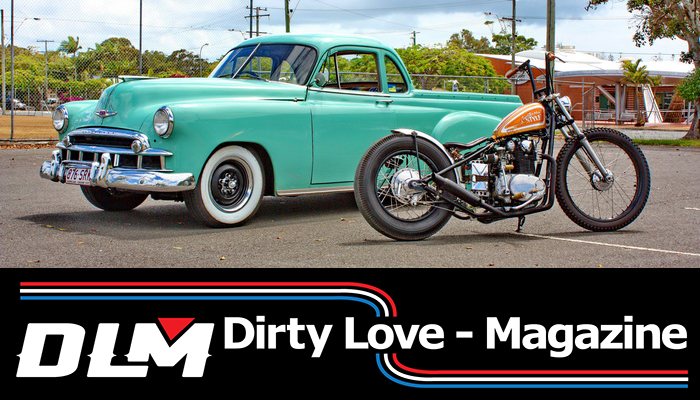 Dirty Love Magazine is an Independent Australian Motorcycle Magazine for Vintage and Handbuilt Choppers, Classics and Kustoms ! A place to feature restored and hand made, home built, suicide machines and all the people, artists and kulture attached to them ! We love em' raw, greasy, gritty & grimy – just hanging together, but full of love, sweat and tears..! That's DIRTY LOVE !!!
It all came about because of a statement I posted on Facebook, something about there not really being any specific Aussie Magazines out there that featured folks in Australia who have a committed love to all things vintage and handbuilt.  What followed was a challenge from a pal of mine, to put up or shut up, and as I did with the bike show, I chose to put up.
DLM Issue #1 – Back in February 2013 I released the first issue of the Magazine, On-line Only and FREE FOR ALL to VIEW.  Which was only made possible because of the support of a small number of top peoples, those that fantastically chipped in content, bikes and tech articles, and then another top bunch who donated monies via my fundraising, so I could purchase some magazine specific software so that I could enable it to be virtually published on the internet. It was a total success, with over 1500+ peoples viewing it in a matter of two weeks, globally.
With the Bike Show done and dusted in April, I then built another issue, a Show Special and published it on the 5th July 2013, again with the great support of all those who had taken photos and taken part in the show. Online Only and again Free for all to View. The Show itself was above and beyond any of my expectations, to the point it had over three times the number of visitors expected. The Show Special Issue release of the Magazine did the same, It was another success.
Issue #2 took a tad longer to produce than I had hoped.  While I began collecting content for it whilst completing the Show Special Issue, my son Jasper arrived a week after the bike show, then a redundancy at the day job, then a new project; rather then look to work again for someone else, I decided to convert my online store to a store-front, setting up the Chop Shop Co-Op in Brisbane, which all contributed to push it back a month or two past my intended release.
By mid October the dust had settled enough and I started getting my hands dirty researching how to go to print. Feedback from everyone in regard to the past two releases was that a large number of peoples wanted something to hold in their hands, not just on-line. While it was a steep learning curve, including the purchase of a large chunk of new software and then shifting to a new way of thinking, I battled on, and with the help from great people like Gavin Kelso, Paul Biagini and the team at Cruzin Magazine and also Phil, Kelly and the awesome team at Kingswood Press, the magazine hitting paper/print became an awesome reality as of 2nd November 2013.
DLM's primary focus is to promote and support the community, not make a living from it and whilst things keep rolling along, I'd like to keep it that way! Altho'.. if there's ever a chance to take it on full-time.. I'd look forward to that!
So Folks, that's the story so far.. with plenty more to come..
Regards,
Jamie (Chops) Day,
Editor/Publisher,
DLM – Dirty Love Magazine
info@dlmaus.com.au