DLM Issue #8
Posted by Jamie D in DLM News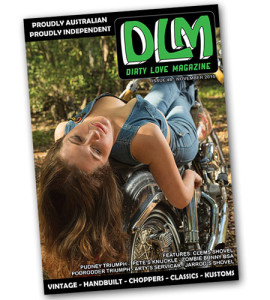 G'day Folks, just a quick update to let you know that Issue No. 8 will be available in print as of Dec 9th.
Pre-Sales are open now and probably your best option if your keen to get your hands on a copy before Xmas is to purchase a copy now so I can dispatch to you as soon as they land at HQ.
I'll be heading overseas not this weekend, but the next and won't be back till Xmas eve, so mail out's aren't possible past the 11th December, until the new year. Apologies, but I'd rather put the store offline, then disappoint folks in regards to delivery.
I'm not sure if it's something I do every issue, but I truly am stoked on this one, the layout and content flow so well and that cover.. WOWZA..!
Thanks heaps to Sophie, Clem, Daniel and the crew at VVMC & VMC Qld for all helping it to come together. You'll need to see the feature to get the full picture (pun intended).
So what's in this issue, FEATURES: CLEMS '74 SHOVEL – PUDNEY '66 T120 TRIUMPH – PETE'S '41 KNUCKLE – ZOMBIE BUNNY '53 BSA B31 – ARTY'S SERVICAR – PODRODDER '68 TRIUMPH T120R – JARROD'S '68 SHOVEL
As always, a small batch has been printed so get them before their gone.. otherwise you'll have to wait till she goes digital.. eventually..
Regards, Jamie/Chops